FEATURES:
Finest design to provide excellent weight to strength ratio
One of a kind special oval shape (Patent Pending) 
Greatly improves traction and climbing abilities 
Unique Patent Pending alternate wide and narrow teeth profiles to keep your chain in place for minimum 12 months! 
Special 3D teeth machining for ultimate mud relief decrease wear and noise dramatically
The ability of installation of a smaller ring sizes that can't be mounted on regular spider.
Superb quality and great look.
You will ride faster using ovals. If you keep using round ring then others will get quicker.
You will not "feel" the oval shape at all 
Reduces stress on knees 
We mastered our oval chainrings to perfection, so you can get best possible advantage from the oval/elliptical shape.
SPECS:
Size (Weight): 28T (50g), 30T (55g), 32T (59g), 34T(66g)
Compatibility: Fits only to Shimano XTR M9100 , M9120 and FC-MT900 cranksets. Works ONLY with CN-M9100 chain.
Material: CNC machined 7075 Txxx Aluminum. Long-lasting construction. Mud optimized.
Offset: 6 mm
Chainline: 51 mm
Chain: This particular chainring will ONLY work with CN-M9100 chain due to different thickness of the teeth.
Ovality: Optimized to each size separately. Range: 10.2-14.4% and Timing of 110.5-116.3° after TDC (top dead center) Patent Pending
Color: BLACK / Grey / Gold
Why Oval Chainrings Work
Our Oval chainrings work because a rider does not produce power evenly through a pedal stroke; they maximize the part of the stroke where power is produced and minimize resistance where it isn't. Oval rings make the spin cycle a lot smoother and are easier on legs while climbing. Believe it (or not), but a round chainring doesn't transfer torque to your rear wheel as smoothly as an Oval one. You will actually feel your stroke to be more "round" with an Oval shape than with a round chainring.
Why it matters
Traction, Traction and Traction. With oval rings rear tire traction improves greatly on loose and slippery terrain. Smoother power delivery to your rear wheel means that you will be able to maintain better, constant cadence; get less stress on the joints (knees) and therefore be able to keep certain level of effort for longer. This results in higher average speed. Moreover, 11 studies made by various Universities in the World show that using oval chainrings human legs utilize more muscle groups (compared to round one), but each of them to lesser degree. Load from pedaling an oval chainring is spread over greater muscle mass which in effect gives you the feeling of fresher and more relaxed legs. It is world's finest oval chainring backed by tens of thousands of customers.
What size should I choose?
Basically the same size you use with round rings but if you feel you are in between two sizes we recommend to choose the bigger one.
HOW TO MOUNT ABSOLUTEBLACK OVAL CHAINRING FOR XTR M9100:
Using Hollowtech II BB Removal Tool (like BBB BTL-116 ), carefully open the lockring that holds the chainring on the crank(normal threads). Once the lockring is removed, take off old chainring, re-grease the splines on the crank. Place new oval chainring with convex side to the crank. Chainring/crank has special splines that only fit one way. Close the lockring to 35-50Nm of force. Chainring is only compatible with XTR CN-M9100 chains. Using other chains may cause chain to drop very easily from the chainring due to thinner than usual teeth.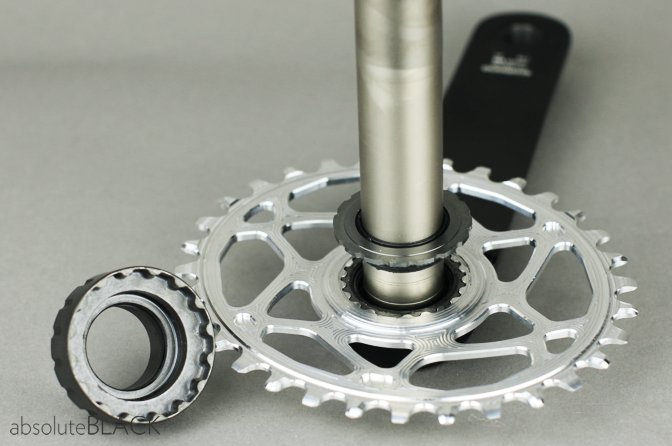 absoluteBlack Chainrings are not Bio Pace:
If you wish to check for frame clearance with new oval ring, below you can find measurement of biggest dimension of the oval (tip to tip of tooth): 26T: 118mm ; 28T: 127mm ; 30T: 134mm ; 32T: 143mm ; 34T: 151mm